How Banks Can Leverage the Power of Regtech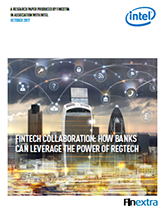 A plethora of enthusiastic start-ups, otherwise known as Regtech's, are rounding on the regulatory space, soaking up investment and promising improved agility and speed and supercharged analytics.
They are harnessing exciting new capabilities in the area of artificial intelligence, while leveraging the flexibility of cloud and promising to ease the regulatory challenge for over-burdened financial services firms worldwide - while also opening up opportunities for banks to leverage compliance investment for additional business benefit.
The question is, can a headline-grabbing new segment of FinTech really deliver everything financial institutions need to leverage leading edge technology to boost their compliance capabilities? This research paper brings together the views of a broad range of regulatory technology experts from the financial industry globally on how to tackle the key challenges and opportunities banks face as they look to harness the power of RegTech.