CTAccel Image Processor (CIP) Running on an Intel® FPGA Greatly Improves Image Processing Performance in the Data Center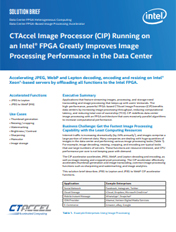 Applications that feature streaming images, processing, and storage need transcoding and image processing that keeps up with users' demands. The high-performance, powerful FPGA-based CTAccel Image Processor (CIP) benefits data centers by increasing image processing throughput, reducing computational latency, and reducing total cost of ownership (TCO). CIP redefines data center image processing with an FPGA architecture that uses massively parallel algorithms to increase computational performance.

Learn more by downloading this solution brief.