Bigstream's Hyper-Accelerated Spark* Application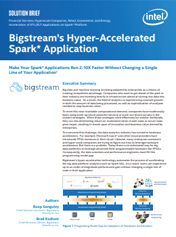 As big data or machine learning initiatives graduate from research projects with small data sets and small server clusters to become an integral part of the business, the data sources leveraged by data scientists expand dramatically. The current scaling solutions for such growth, scale-up or scale-out, can be costly and have diminishing returns once they reach a certain size. The data analytics industry has turned to hardware accelerators, such as the Intel Programmable Acceleration Card (PAC) and Acceleration Stack, to overcome this challenge for both enterprise and cloud implementations.

Learn how Bigstream's software solution combined with the Intel FPGA technology can significantly increase the computational power to run big data analytics faster and at a lower TCO than traditional approaches.