Cloud Service Providers Success Stories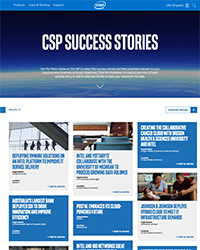 Discover a variety of customer stories through the new interactive CSP Success Stories collection
Find out how cloud service providers like you have transformed their businesses, and start planning your path to innovation with the interactive CSP Success Stories tool. Select the success stories and best practices that are most relevant to your business, use the filters to search the comprehensive collection of case studies and solution briefs.
You can select the case studies and solutions briefs by:
Technology used
Technology area
Geography
Industry
Business objectives
Click the thumbnail of each success story to read an overview, or learn more by clicking through to the full case study. To collect the stories that are most useful for you, just click 'Add to stories' to save your selections for later.