Discover the Benefits of Software-Defined Storage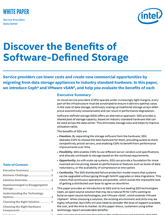 As cloud service providers (CSPs) operate under increasingly tight margins, every part of the infrastructure must be scrutinized to ensure it delivers optimal value. In the case of data storage, continually scaling up traditional storage arrays often prove economically unsustainable and can result in performance degradation.
Software-defined storage (SDS) offers an alternative approach. SDS provides a shared pool of storage capacity, based on industry standard hardware that can be used across the data center. This eliminates storage silos and helps to improve utilization ratios.
Read Intel's latest whitepaper to learn how your business can benefit from SDS, including:
- Freedom - SDS can free you up to choose the best value hardware from any vendor
- Flexibility – allocate workloads to storage based on workload requirements
- Opportunity – SDS can provide a foundation for new storage services and more nuanced pricing
- Continuity – upgrade without data migrations for continuous operations.