Download "Understanding and Meeting FPGA Power Requirements" White Paper Now!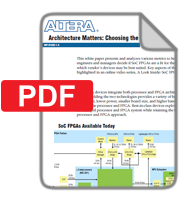 This white paper examines the need to consider power management solutions earlier in the FPGA design process to ensure seamless operation.
Download this white paper to learn:
How power design impacts overall FPGA system performance
The sources of complexity in powering FPGAs
What must be considered when designing the FPGA power tree
Unleash the potential of your FPGA design by considering power management solutions early in your design process.