The Intel® Omni-Path Adviser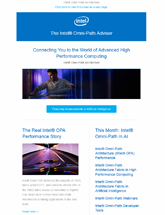 Get Connected. Stay Connected.
Don't miss a single thread from the fascinating and evolving world of high performance computing and deep learning. This free Intel® Omni-Path Adviser subscription provides a low-latency, high QoS interconnect between you, and the latest and greatest on Intel® OPA, HPC trends, HPC developer tools, and the HPC community itself.