Artificial Intelligence: A Guide for Cloud Service Providers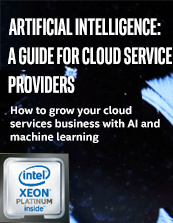 91% of enterprises anticipate significant barriers to artificial intelligence (AI) adoption in 2018. But as a cloud service provider (CSP), you can help.
Your customers want to implement AI, but first they need to know how to navigate the technological and cultural barriers it presents. By creating AI-based cloud services, you can unleash new revenue streams and meet your customers' needs for innovation, while improving your own services and data center processes.
Read Intel's latest eGuide to discover how to grow your cloud services with AI and machine learning, including:
- The current AI and machine learning landscape and what it means for CSPs
- How to create compelling, value-added AI services
- What you need to do to take advantage of AI technologies, now
- The next steps for building AI products and capabilities