Eliminating Islands of Tech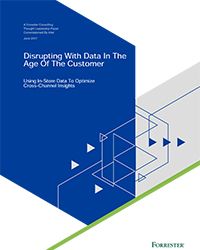 Connecting Your Stores for Cross-Channel Optimization
From size to color palate to personal style, customers have a lot of preferences that inform what they buy and when. The challenge for brick-and-mortar retailers becomes how to use this data to drive more sales and make the experience more personalized.
A leading global research and advisory firm found that 80 percent of retailers say that improving customer experience through innovation is a top priority, and yet over 63 percent say that their customer-facing sales associates struggle with siloed data systems. With most client data being stored in an average of 12 separate data systems across retailers' various channels, it can be almost impossible for them to properly evaluate the complete customer journey.
The second in this series, this report looks at a framework for optimizing and personalizing retail across channels by:
Harnessing artificial intelligence to integrate analytics
Educating salespeople on how to optimize the customer journey
Evolving brick-and-mortar stores into mini-distribution centers
Building a system for connected and consolidated data
With these tools, retailers can begin to break down data silos and empower their stores to thrive in the retail revolution.