Modernize your cloud infrastructure to build profit and market share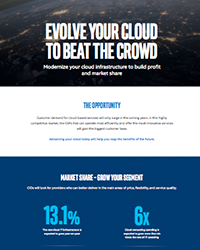 The most modern and successful enterprises tap the power of the cloud to deliver innovative experiences. Find out how you can build an agile, scalable cloud that meets your customers' workload demands today and in the future.
The Evolve Your Cloud Guide describes the opportunity for cloud service providers (CSPs) in the burgeoning cloud services market, how to identify new cloud services to offer and the infrastructure improvements you can make that will help to deliver maximum profitability from your enhanced cloud services portfolio.